Here you can find articles, either written by myself or by colleagues, about the weaving culture in Morocco. More information will be continuously added to this page over time. All information is copyrighted and you may not reproduce any information nor use any images without prior consent.
STRIKING SIMPLICITY
Gebhart Blazek and Alexandra Sachs celebrate the distinctive qualities of Moroccan flatweaves- everyday items that exceed expectation with their evocative, painterly design…
Originally published in HALI 204, London, SUMMER 2020
Download PDF    Striking Simplicity
AN INFINITY OF STRIPES
In the Anti-Atlas regions of Morocco, Berber women sometimes still wear, as they historically have, striated costumes. Lucien Viola, an art and textile collector and gallerist living in Marrakesh, presents a first-hand view of the deceptively simple but highly creative striped robes of the Ait Moussa, and Alexandra Sachs, a Brooklyn and Zurich-based fellow specialist in Moroccan rugs and textiles, offers a singular view of the southwest Moroccan striped aesthetic…
Originally published in HALI 200 (Special Anniversary Edition), London, SUMMER 2019 
Download PDF    An infinity of stripes
MOROCCAN CARPETS AND MODERN ART
Aesthetic parallels between the artwork of classic modernism and the visual world of Moroccan tribal carpets have been the subject of ongoing discussion in the past few years. Contributing editor Gebhart Blazek takes up the thread in the context of an upcoming exhibition in Graz…
Originally published in HALI 199, London, SPRING 2019
Download PDF    Moroccan carpets and modern art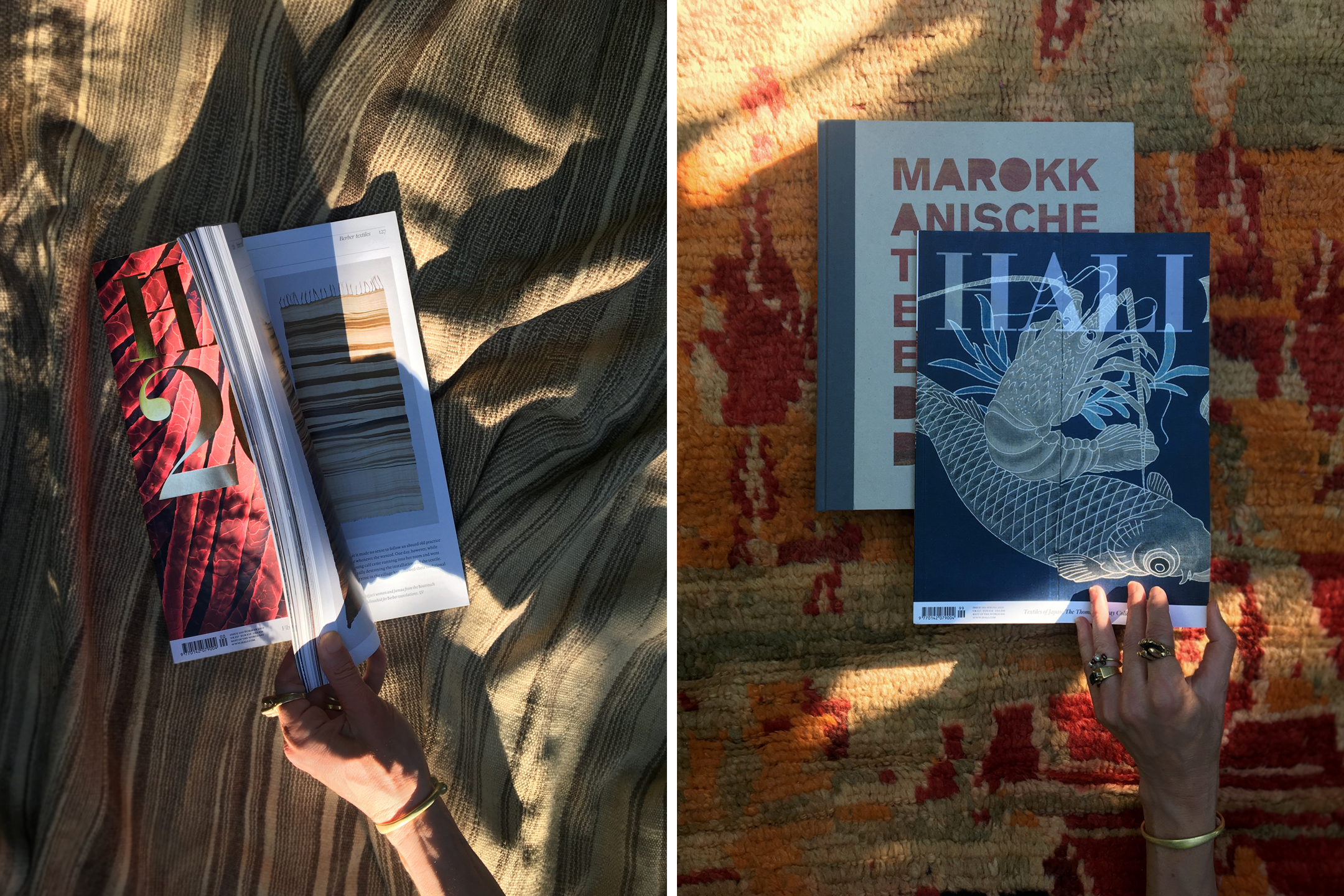 HALI 200 Special Anniversary Edition and HALI 199 with the catalogue Marokkanische Teppiche und die Kunst der Moderne, published in 2013 by Arnoldsche, accompanying the exhibit 'Moroccan Carpets and Modern Art' at the Pinakothek der Moderne in Munich.